Your case will be handled by the same lawyer from start to finish.
When you need a lawyer in the Salisbury, North Carolina area, it pays to go with someone who has been involved in the community for decades and understands the needs of its citizens. At Koontz & Smith, Attorneys at Law, we've been in practice since 1980, providing legal advice and services pertaining to personal injury law, workers' compensation, social security law, veterans' benefits, and real estate law.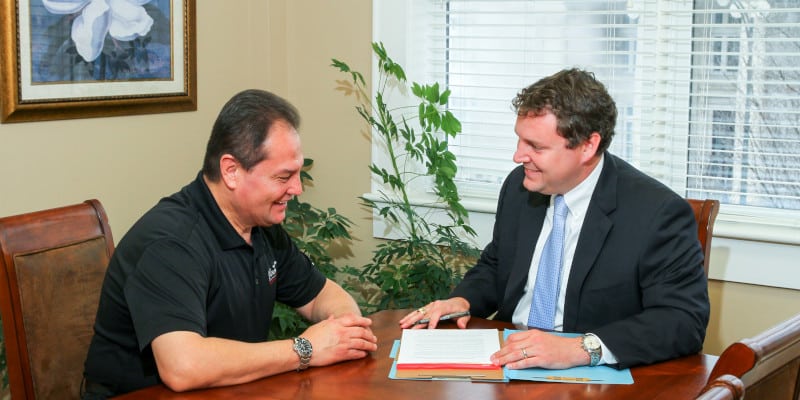 When you contact us, you will work with one lawyer from start to finish, so you can feel confident that your case is being handled in the best possible manner. You will be given personalized attention throughout your case, including having a lawyer come to you in the hospital or where you are recovering if getting to our office is problematic for you.
Superior Legal Services
By keeping our practice limited to only those specific areas of law, we are able to give you the highest possible level of service and keep up with the current laws, so your case is handled appropriately. You can be confident the lawyer representing you is qualified for the type of legal services you need.
Tips for Choosing a Lawyer
At Koontz & Smith, Attorneys at Law, we understand you have several choices when you need a lawyer in the Salisbury, North Carolina area. We also recognize that we might not be the right one for you, especially if you have a case in a different area of law than we handle. It is wise to take your time to choose a lawyer, and we are always happy to schedule a complimentary consultation to discuss whether we would be a good fit. Here are some tips for choosing a lawyer, along with the reason we believe we might be the perfect one for you.
Experience with Your Type of Case- When you meet with a lawyer, ask them about the areas of law they cover and how much experience they have in the area of law that covers your case. It takes plenty of continuing education and research to stay on top of an area of law, so a lawyer who spreads themselves too wide is not doing you any favors. As the cliché goes – Jack of all trades, but master of none. When you want a master, call us!
Communication Skills- You want a lawyer you can feel a connection with and who takes the time to listen to the particulars of your case without making you feel like you are inconveniencing them. Your lawyer should be skilled at communicating with you throughout your case– not just at the beginning when they are trying to get you as a client. Since 1980, we have endeavored to make every client feel comfortable and informed.
Honesty- While it is difficult to hear from a lawyer that your case has no merit and isn't likely to have a favorable outcome, it is better to learn that before you are emotionally and financially invested. We'll give you an honest answer about the viability of your claim and discuss all your options so you can make an informed decision about how to proceed.
Mr. Smith handles our personal injury and workers' compensation cases, as well as real estate closings. Mr. Koontz handles our social security cases and also does real estate closings. Other staff members support your lawyer so that all paperwork and court filings are completed in a timely manner.
If you have questions about a legal matter that falls within the experience of a lawyer in our firm, don't hesitate to contact us to schedule a complimentary, no-obligation consultation.
---
At Koontz & Smith, Attorneys at Law, our lawyers proudly serve Salisbury, Davidson, Kannapolis, Concord, Statesville, Mooresville, Lexington, Granite Quarry, Mocksville, Spencer, and China Grove, North Carolina.