If you need an auto accident attorney in or near the Salisbury, North Carolina area, there is no better place to turn than to us at Koontz & Smith, Attorneys at Law.
Have you or a loved one been in an auto accident, and now you need to file a personal injury or wrongful death claim? At Koontz & Smith, Attorneys at Law, we are your top choice for legal representation when you need an auto accident attorney for your case in Salisbury, North Carolina.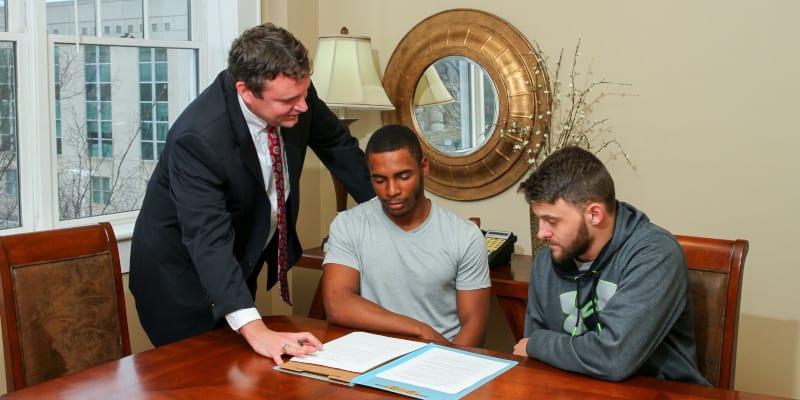 As your auto accident attorney, there are several things we will do to ensure that you achieve the best outcomes from your case.
We will start with a free consultation at our office, or we can visit you at a hospital, rehabilitation facility, or your home if you are undergoing treatment and recovery.
Our small practice allows us to provide personalized attention, so we build a relationship with you for the duration of your case.
We use smart courtroom tactics as your auto accident attorney and will fight for your right to be compensated accordingly.
We have advanced legal experience as auto accident attorneys, and we are confident that we can help you receive the benefits you deserve.
Get the Personal Service and Caring Representation You Deserve
Are you struggling to move forward after an auto accident? Schedule a consultation today!
Wondering If You Should Hire an Attorney? This May Help
Get a Glimpse of Our Team
At Koontz & Smith, Attorneys at Law, we have experience providing our clients with the services they need related to personal injury law.  Attorney Peter Smith focuses his practice on personal injury and workers' compensation cases only, which benefits our clients. If you need an
auto accident attorney
, there is no better place to turn.
Contact us today to discuss your case and to schedule an appointment for a complimentary consultation. We look forward to working with you soon.
---
At Koontz & Smith, Attorneys at Law, our auto accident attorneys proudly serve Salisbury, Davidson, Kannapolis, Concord, Statesville, Mooresville, Lexington, Granite Quarry, Mocksville, Spencer, and China Grove, North Carolina.